McMurtry's Masterpiece
Larry McMurtry is a full-on creative force, having penned over fifty novels, most of which were best sellers, and several that were adapted into either critically acclaimed films or popular television mini-series. As a result he has picked up an Academy Award, a Golden Globe and a Pulitzer Prize along the way.
However, McMurtry's definitive work did not spring forth from the keys of his Hermes 3000 typewriter, nor will you be able to view it on a DVD player from the comfort of your living room. His greatest masterpiece sits in four sprawling retail areas situated around the town square in his home town of Archer City.
That is where you will find Booked Up Inc., which McMurtry founded in 1987. Many will be tempted to take the softer, easier path and refer to Booked Up as a bookstore. While such a description is true on its face, it is also woefully insufficient. This is no mere retailing establishment. This is a literary temple.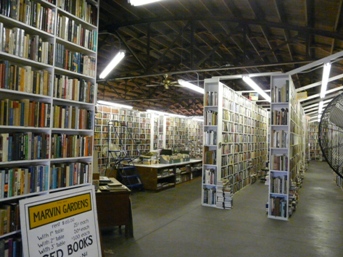 One of the many rooms of books you will find at Larry McMurtry's Booked Up.
Housing over 300,000 titles in four separate buildings, Booked Up is a cornucopia of the printed word. Novels, textbooks, treatises, history books and biographies on virtually any subject can be found within its walls. From the secret Nazi life of Dr. Carl Jung to the history of Mormon furniture, odds are you can find a volume covering it at this shop.
There is, however, one notable exception. You won't find any of McMurtry's works in Booked Up — they don't carry them. It seems that every time he visited the store, he spent all his time signing his own novels.
When I heard that McMurtry had a used bookstore in Archer City, I made the erroneous assumption that I could roll into town and cover the entire place in one afternoon. (This was just the latest in a series of personal miscalculations. I am, after all, the same man who thought Slumdog Millionaire would close after one weekend at the box office and then go straight to DVD.)
After walking through the four different branches of Booked Up, I formulated a plan for fully experiencing this Texas treasure trove. I have not had the occasion to follow this plan myself, but it is my goal to do so before the end of the year. Anything less and you run the risk of cheating yourself. Based on my limited recognizance, here is my proposed plan of attack:
1.  Allow yourself at least four days to explore the multitude of shelves. (That is one day for each location) The store is open from 10:00 a.m. until 6:00 p.m., Monday thru Saturday, so time should not be an issue. Each building is adequately cooled to offset the blazing North Texas heat, and I assume the reverse is true during the bitterly cold winter months. There are plenty of comfortable sitting areas scattered throughout, so you are assured of browsing in a relaxed environment.
2. The store's web site (www.bookedupac.com) will give you a general idea of how the books are arranged. Pick your areas of interest and dig in. Booked Up claims its books are arranged "Erratically/ Impressionistically/ Whimsically/ Open to Interpretation". The reality is that they are grouped together in an amazingly logical manner, especially when you consider what a massive undertaking it must be to stock an emporium of this size.
3. The employees are located in building 1, and that is where you will pay for your finds. While the other three buildings are unlocked, they are unattended. My guess is the proprietor figured anyone who loves books enough to travel to a remote outpost near the Oklahoma border can be trusted not to steal them.
4. The citified among you will probably want to stay in Wichita Falls and make the 20 mile drive each day. In my opinion, that would be a mistake. Exploring the shelves of Booked Up is not an ordinary shopping trip — it is an adventure. So the best bet is to stay at the historic Spur Hotel in downtown Archer City or The Lonesome Dove Inn. You can take your meals across the street at the Wildcat Café, which just happens to have one of the best cheeseburgers in Texas.
In fact, almost as great a discovery as Booked Up is Archer City itself. It may be the coolest, funkiest small town in Texas. It is home to the Royal Theater, which was featured in McMurtry's The Last Picture Show. Re-opened as a performing arts center in 2000, it hosts live music events and theatrical productions throughout the year.
So what inspired Archer County's favorite son to put a magnum opus such as Booked Up in a hamlet with a population of less than 2,000?
As it turns out, McMurtry has been in the business of collecting and selling books longer than he has been in the business of writing them. While working on a post-graduate degree at Rice, he managed a book store in Houston. He became a rare book scout while studying at Stanford. His love affair with books runs long and deep.
The story goes that as a small child growing up in Archer City, he lamented the fact that his hometown lacked a bookstore. With the creation of Booked Up, he remedied that problem.
With a vengeance.