Ranking Romo: His Place in Cowboy's History
Note: This aricle appeared in the Texas Star Tribune on October 26, 2009
Since taking over the reins as the Dallas QB midway through the 2006 season, Tony Romo has captured the imagination of the Cowboy Nation.
From the height of the 2007 season when he led the Pokes to a 13-3 record, to the depth of last year's 44-6 season ending loss in Philadelphia, Romo has been alternatively praised as the savior of the franchise or cussed as a $65- million mistake.
Following Sunday's stellar performance against Atlanta (21-29, 311 yards, 3 TDs, no INTs), the free agent from Eastern Illinois stock is once again on the rise. This comes two weeks after he was skewered on message boards across the internet for his performances in a close loss to Denver and an overtime win over the hapless Chiefs.
So exactly where does Romo rank amongst all those who have come before him? Where should he be ranked on the Cowboys' all-time list of signal callers?
Of course, we have no way of knowing where #9 will ultimately end up. However, he has compiled a big enough body of work to enable us to track his progress thus far.
Former Dallas Cowboys' starting quarterbacks can be divided into four distinct groups.
The top tier consists of those who played well enough to be considered "franchise" QBs. At the present time, this elite group has only three members — Don Meredith, Roger Staubach and Troy Aikman.
Meredith took the Pokes from a fledgling expansion team to one of the premier franchises in the NFL. His battles with Bart Starr and the Green bay Packers in the 1966 and 1967 NFL championship games were epic. Staubach and Aikman are both Hall of Famers with multiple Super Bowl rings.
The second group consists of those who were very good QBs, and who enjoyed a high level of success, but whose accomplishments fell just short of greatness.
This is also a fairly elite group. Presently, it has only two members — Craig Morton and Danny White. Both of these men had solid careers and success in the post-season. Morton started for Dallas in Super Bowl V and White would have led the team there in 1981 if Dwight Clark had been a few inches shorter.
Then there is the third level. This consists of those who played spectacularly or solidly at times, but never were consistently good enough to be considered anything other than slightly above average. This group includes Steve Pelleur, Gary Hogeboom, Eddie Lebaron, Drew Bledsoe, and possibly Quincy Carter.
Finally, there is the fourth group which consists of those who, due to lack of talent, solid supporting cast or opportunity, failed to make any type of lasting mark. Drew Henson, Chad Hutchison and Anthony Wright belong in this class.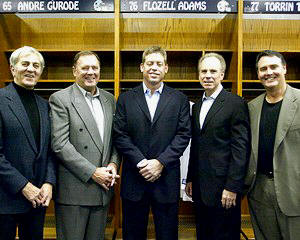 Ro
mo has potential, but he still trails (from left to right) Meredith, Morton, Aikman, Staubach and White.
To his credit, Romo has a 31-14 record as starter. So he clearly does not belong in the last group.
Conversely, with no play-off victories, much less any Super Bowl rings, it is ridiculous to even mention him in the same breath with the holy trinity of Meredith-Staubach-Aikman.
This leaves either the second or third group. And at this stage of his career, Romo is squarely in the middle of these two units.
In fact, Romo's and Hogeboom's careers started out in similar fashion. Hogeboom was a relative unknown from a small school with a big arm. He had a knack for making big plays, but could not consistently take care of the ball. He was actually promoted ahead of White for part of the 1984 season. However, his inconsistency ultimately sent him back to the bench.
Those have all been hallmarks of Romo's career thus far — a spectacular play on one series, and a frustrating turnover the next. But unlike Hogeboom, he has not had to worry about losing his job. He has been given the freedom to learn on the job. For that reason, he has evolved past the signal callers in the third tier.
And yet, he does not quite possess the bona fides to join White and Morton. Romo needs some post-season success to join them. Both of those men took Dallas to either the NFC or NFL title game. Romo has yet to lead the Pokes out of the first round. He is also going to have to drastically improve on his 5-8 record during the month of December.
However, as he demonstrated this Sunday, the potential is there.