The Top 10 Texas Born Film Stars
It is not surprising that Texas, a state known for its individuality and creativity, has given Hollywood some of its brightest stars. Here is our list of the top ten film stars born on Texas soil. As always, your comments and opinions are invited.
1. Tommy Lee Jones (San Saba) — Jones has won a Golden Globe (Coal Miner's Daughter), an Emmy (Executioner's Song) and an Academy Award (The Fugitive). No one on our list can boast a more diverse body of work. Jones has played everything from a laconic cowboy (Lonesome Dove) to a comic book super villain (Batman Forever), to a gay gangster accused of conspiring to assassinate president (JFK). Jones is the quintessential Texas actor.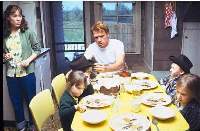 The top two Texas-born film stars teamed up in 1980
in

Coal Miner's Daughter

.
(Courtesy Photo)
2. Sissy Spacek (Quitman) — Spacek won an Academy Award in 1980 for her portrayal of Loretta Lynn in Coal Miner's Daughter.  It is a little known fact that Lynn herself handpicked Spacek for the role. She was also nominated for two Oscars;  in 1976 (Carrie) and  in 1982 (Missing). Her films have grossed over $700 million worldwide.
3. Patrick Swayze (Houston) — Swayze may well be the most popular Texas actor, having starred in many of his generation's biggest films. His breakout film was 1983's critically acclaimed The Outsiders. That same year he also appeared in box office smash Red Dawn. His filmography includes Dirty Dancing (1987), Roadhouse (1989), Ghost (1990) and Point Break (1991). Here is something else that sets him apart from most of his colleagues — Swayze has been married to the same woman for over thirty years.
4. Joan Crawford (San Antonio) — "Mommy Dearest" never won any awards for her parenting skills. Crawford, however, was one of the most prolific actresses of her generation. In 1945, her performance in the film Mildred Pierce won her the Academy Award for Best Actress in a Leading Role. Her career spanned almost five decades, and she appeared in over eighty films.
5. Renee Zellweger (Katy) — This one-time waitress in an Austin strip joint first captured national attention as Tom Cruise's love interest in 1996's Jerry Maguire. Even though she just turned forty, Zellweger has already assembled an impressive body of work. She gained 20 lbs for her role in Bridget Jones' Diary and won an Oscar in 2006 for her role in Cold Mountain. If her career stays on its present course, she will end up challenging Crawford and Spacek as the ultimate Texas actress.
6. Jamie Foxx (Terrell) — Foxx has played some fantastic roles since bursting into the national spotlight in the Fox comedy series In Living Color. While his breakthrough role came in Oliver Stone's 1999 film Any Given Sunday, his signature performance was delivered in 2004 when he portrayed singer/Songwriter Ray Charles in the film Ray. That role won him an Oscar for Best Actor. Foxx is also a platinum-selling recording artist.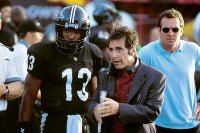 Before winning an Academy Award for his portrayal of Ray Charles, Jamie Foxx gave Al Pacino and Dennis Quaid fits as "Steamin" Willie Beamon in
Any Given Sunday.
(Courtesy Photo)
7. Debbie Reynolds (El Paso) — Reynolds has now been in the entertainment industry for more than fifty years. During that time she has been a successful recording artist (Aba Daba Honeymoon), a television star (The Debbie Reynolds Show) and an Academy Award nominee (The Unsinkable Molly Brown). Reynolds is one of the few artists from MGM's "golden age of film" who remains active. Recently, she starred in the popular NBC sitcom Will and Grace, where she played Grace's ditzy mother for nine seasons.
8. Woody Harrelson (Midland) — After starting out in television on the prime time staple Cheers, Harrelson has gone on to turn in some memorable big screen performances. In 1992, he teamed with good friend Wesley Snipes in the commercially successful White Men Can't Jump.  He had two great performances in 1993, with Natural Born Killers and Indecent Proposal. He followed those up in 1995 with People vs. Larry Flynt. Recently, he starred in the Texas classic, No Country for Old Men.
9. Bill Paxton (Fort Worth) — During a career that has spanned three decades, Paxton has appeared in over sixty films. Perhaps his most memorable experience was playing opposite Tom Hanks and Kevin Bacon in Apollo 13 (1995).  His film credits also include Titanic (1997), Tombstone (1993), and The Terminator (1984).  Presently, he stars in the critically acclaimed HBO series Big Love, which garnered him a Golden Globe in 2008.
10. Forest Whitaker (Longview) — Whitaker took home the Oscar in 2006 for his performance in The Last King of Scotland. Not bad for someone whose first film role was the snarling football star in Fast Times at Ridgemont High.
HONORABLE MENTION: Debbie Allen, Powers Boothe, Betty Buckley, Carol Burnett, Gary Busey, Kate Capshaw, Cyd Charisse, Dabney Coleman, Barry Corbin, Linda Darnell, Sandy Duncan, Shelley Duvall, Morgan Fairchild, Farrah Fawcett, Larry Hagman, Angie Harmon, Jennifer Love Hewitt, Kris Kristofferson, Eva Longoria, Matthew McConaughey, Annette O'Toole, Mary Kay Place, Dennis Quaid, Ann Sheridan, Jaclyn Smith, Rip Torn, JoBeth Williams, and Owen Wilson.