Sober House: Putting the "Real" in Reality
Ever since MTV introduced

The Real World

, back in 1992, reality television programs have become a fixture on the American entertainment scene. Not only do each of the major networks air some form of reality show, virtually every cable channel has  gotten in the act. There are even two cable networks dedicated solely to this genre.
We have watched people compete for money (

Survivor

), career advancement (

The Apprentice

), fame (

American Idol

) and love (

The Bachelor

). Each of these shows, at one time or another, has been the top-rated show in America.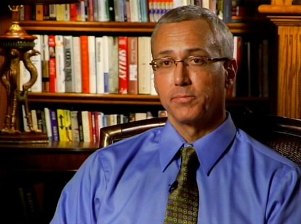 Dr. Drew Pinsky, Executive Pruducer of VH1's Sober House
However, while these programs are entertaining in their in own right, they all pale in comparison to VH1's

Sober House

, a spin-off of the network's highly popular 

Celebrity Rehab.

In fact,

Sober House

is the single most powerful reality show ever produced.
So what is it about

Sober House

that separates it from the pack? The answer is quite simple — it is actually real.
While other shows of this type typically feature unknown people competing against each other for personal or financial gain, this program offers something entirely different. It is about a group of people, all of whom have experienced some degree of fame, battling their own greatest enemy — an addiction to alcohol and drugs.
The stakes for the cast of

Sober House

are far greater than cash or notoriety. They are fighting for their very lives. That is what makes this show so compelling.
This nine episode series takes place over a thirty day period. It is set in a "sober living house" (i.e. an alcohol and drug free living environment) in Hollywood Hills, California. The show is produced by Dr. Drew Pinsky, a psychiatrist specializing in addiction, who treated most of the cast members during either the first or second season of

Celebrity Rehab

. It features seven newly sober addicts and a "housemother", actress Jennifer Gimenez, who attempts to keep the group in line.
The cast includes Seth "Shifty" Binzer (lead singer of

Crazytown

), Rodney King (victim of the police brutality that was the catalyst of the L.A. riots), Steven Adler (former drummer of

Guns-n-Roses

), actor Andy Dick, supermodel Amber Smith, Nikki McKibbin (

American Idol

finalist) and adult film star Mary Carey.
Sober House accomplishes something rare. It is educational, inspiring, frustrating and heartwarming — all at the same time.
According to the National Institute of Drug Abuse, fifteen percent of the population suffers from chemical dependency. The American Medical Association has classified addiction as a disease, mainly because it is a chronic condition. In other words, left untreated it will eventually result in death.
The non-addicted person is usually mystified by the addict's behavior. They are at a loss to understand how someone can continually keep drinking or using in the face of certain destruction. While

Sober House

does not address this enigma, it is an excellent case study of addictive behavior. Anyone who watches a few episodes will instinctively understand the alcoholic-addict more clearly.
However, the real value of

Sober House

is in its ability to invoke empathy and compassion in the viewer. When Binzer relapsed, suffered a cardiac arrest and almost died, the producers left the audience in suspense for a week before revealing his fate. Message boards and blogs across the nation were filled with viewers voicing their concern. Each time Carey's villainous boyfriend berates and exploits her, those same web sites are full of posts encouraging her to "dump the sleaze bag."
As a result of

Sober House

, an audience of millions is now emotionally invested in the recovery of these seven people. We are now praying for, pulling for and supporting a group of total strangers as they try to recapture their lives.
Any show that can unite so many in such a worthy and selfless cause can truly be called "must see TV".