The Best College Football Coach in Texas
If you asked most fans who is the best college football coach in Texas, chances are most people would name either the $5,000,000 Man (Mack Brown) or TCU's Gary Patterson. After all, both have teams ranked in the top four. Brown has a shot at winning a national championship this year. And with 18 returning starters, Patterson could be playing for a title next year.
Others would undoubtedly pick Texas Tech's Mike Leach, the mad scientist of the South Plains. A few might even tab Houston's Kevin Sumlin as the top coach.
All of these men excel at their jobs. They are outstanding coaches and, more importantly, exemplary role leaders. However, as great as they might be, none of this quartet is the best college coach in the Lone Star State. That honor belongs to a man that most of you have probably never heard of.
Henry Frazier III of Prairie View A&M.
No one has done more with less in a quicker amount of time. Not Brown, who is on the cusp of winning his second BCS title in five years. Not Leach, Patterson or Sumlin, who have all built top programs with players Brown passed over. In fact, when you consider the totality of the circumstances, their accomplishments are dwarfed by what Frazier has achieved.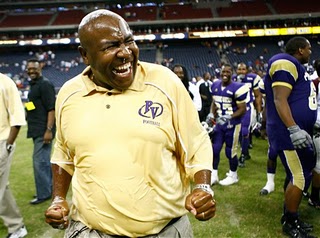 When Henry Frazier arrived at PVAMU, the Panthers had won only 9 games in the preceeding 12 saesons.
When Prairie View claimed the Southwestern Athletic Conference crown on Saturday with a 30-24 victory over Alabama A&M, capping one of college football's most amazing turnarounds at any level.
When Frazier took over in 2004, PVAMU football was a national joke. Owners of the record for the nation's longest losing streak (80 straight defeats from 1989-1998), the Panthers had only won 9 games in the previous 12 seasons. The last time the program had a winning season, Gerald Ford was in the White House.
Even though most coaches viewed the head coaching job at PVAMU as a dead end, Frazier looked at it in an entirely different light.
"I thought that it was the greatest opportunity in all of college sports," Frazier recently told the Houston Chronicle. "The only thing people were talking about (concerning) Prairie View was the 80-game losing streak. So I figured that if I could go there, have some success and win a championship, people might think that I'm a pretty good football coach."
After going 3-8, 5-6 and 3-7 in his first three years, Frazier turned the corner in 2007. The Panthers went 7-3 for the first winning season in three decades. In 2008, PVAMU took it even farther, going 9-1 and finishing in the top 25.
This year, PVAMU finished 10-1 and won the SWAC title for the first time since 1964. "It's been a long time coming," said Frazier."Nobody on this staff, nobody on this team was born in 1964. This is a special time."
And it arrived at PVAMU courtesy of a special coach.
No other coach in Texas started with a program that had fallen as far as the one at PVAMU. Granted, Texas was far from the national power it is today when Brown took over. However, he had two things Frazier never had — a rich history of tradition and a blank check.
Both Patterson and Leach have taken their programs to new heights as well. But their predecessors (Spike Dykes and Dennis Franchione) had left solid foundations in place. The same can be said for Sumlin when he took over for Art Briles at UH.
Here is the good news. Odds are Frazier is staying with the Panthers for awhile. He has already received two contract extensions and is signed through at least 2011. When he signed his first four year contract, many doubted he would last to the end of the deal.
Former PVAMU Athletic Director Charles McClelland recalls most fans initial reaction, "One alumni wrote that we needed Superman to turn this program around, and you hired Opie. Well, I would say that, (six) years later, Opie must be a superhero because he took the nation's worst football team and turned it into the conference's best."