West Coast Longhorns?
Give Pac-10 commissioner Larry Scott credit — the man knows how to create a buzz.
At a news conference, ostensibly to introduce his new deputy commissioner Kevin Weiberg, Scott let it be known that his conference "will engage in serious analysis of expanding its membership."
The firestorm quickly engulfed the blogosphere as sportswriters, fans and other assorted frustrated journalists weighed in with their opinions on this development.  Some of the best threads and comments I read were on this very site.
It is widely assumed the conference would add two members so it could reach the magic number of 12, thereby entitling it to stage a conference championship game in football. However, Scott did not mention any specific school, and it made it clear that no institutions have been approached. Of course, his refusal to identify any potential members has only fueled the speculation.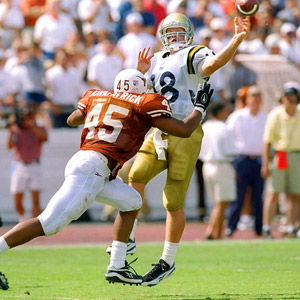 Texas and UCLA in the same conference? Stranger things have happened.
The overwhelming opinion is that Colorado and Utah will bolt to the Pac-10. On the surface this makes sense. It is a decent fit geographically and the Pac-10 would be picking up the 16th rated television market (Denver) and the 31st (Salt Lake City).
However, I think it far from a foregone conclusion that these schools will be invited to join the Pac-10. In fact, I doubt it will happen. I base this opinion on two things.
First, Bud Withers of The Seattle Times had this to say in his column yesterday, "A well-placed source on the college landscape says that a bit before Scott came to the Pac-10, the league had an analysis done of expansion possibilities and concluded that a Colorado-Utah addition didn't really do all that much. And that realistically, nothing short of Texas would."
So if Wither's source is to be believed, the Pac-10 has already looked at the Utah-Colorado tandem and found it lacking. Assuming this source is credible, Scott is probably going to start his search for new members east of the Rockies.
Just my opinion, but I believe that is exactly what Scott is going to do. Not only that, it is the right move. Texas, and its sister school Texas A&M, are the best fits for an expanded Pac-10.
Consider the way the Pac-10 is set up. It is in many ways the ideal conference. It is not so much a league of ten teams as it is a set of five perfectly paired, natural rivalries. (USC-UCLA, Cal-Stanford, ASU-Arizona, Washington-WSU, Oregon-OSU)
No other conference can boast this type of set-up. And the presidents of the member schools know this.
Plus, it also seems to have an unofficial criteria for membership — each and every one of its ten members is a "Tier One" major research institution.
Texas and Texas A&M qualify on both counts. In fact, they are the closest pair to the Pac-10 that does.
Most "experts" are automatically assuming that Texas would not be interested in leaving. They could not be more wrong. Texas and the Pac-10 have had a mutual interest in each other dating back to the break-up of the Southwest Conference. Texas felt the SWC was "too regional" and flirted with both the Pac-10 and the Big 10. There is still a lot of that sentiment in Austin as regards the Big 12.
This would be a huge coup for the Pac-10. There is serious bias against the conference east of the Mississippi, mainly because of the time zone in which it operates. Pac-10 teams are just kicking off right around the time most southerners or Yankees are going to bed. The league could erase a lot of that with a presence in the central time zone.
Plus, the potential television market dwarfs anything that Colorado or Salt Lake City can offer. The Pac-10 would be adding three of the top 10 markets in the country (Dallas, Houston, San Antonio) in addition to Fort Worth, Austin and El Paso.
Don't get me wrong — I love the Big 12. But a weekend trip to L.A., Phoenix or Seattle sounds pretty good — especially when you compare it to Stillwater, Lincoln or Ames.
However, this is all just speculation on my part. At the end of the day, the Pac-10 presidents will probably decide to stay put with 10 teams — there is a reason that conference hasn't changed in 32 years. Missouri will probably leave for the Big 10, and TCU will replace them in the Big 12. Boise State will then join the Mountain West, and that conference will get the BCS status it richly deserves.
But don't rule out a Texas defection to the Pac-10 — it could happen. In fact, I am betting that Mack Brown is in his office right now with the doors lock. He just pulled out his secret stash of Kid Rock CD's and is singing the following tune at the top of his lungs:
"Well I'm packing up my game and I'm a head out west
Where real women come equipped with scripts and fake breasts
Find a nest in the hills chill like Flynt
Buy an old drop top find a spot to pimp
Get a map to the stars, find Heidi Fleiss
And if the price is right I'm gonna make my bid boy
And let Cali-for-ny-aye know why they call me

Longhorn baby
With the top let back and the sunshine shining
Longhorn baby
West coast chilling with the Boone's Wine
Cus I be a Longhorn baby
playing at night cause I watch film all day
Longhorn baby
I can whip Lane Kiffin from a mile away