Why Do We Hate Duke?
Three of the teams in this year's Final Four are easy to root for.
First, there is Butler. This small, private school will be playing seven miles from its campus and is perceived as this year's Cinderella team. I put an emphasis on "perceived" because this is solid team that earned its spot. In fact, Butler may well be the new Gonzaga. Their run to Indianapolis has been the most impressive of the remaining teams.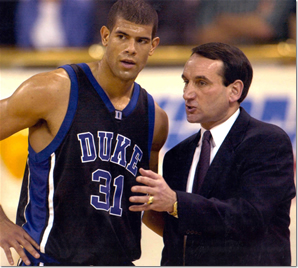 Even nice guys like Shane Battier and Coach K can't keep us from hating on Duke

Next there is Michigan State. Tom Izzo may be the best college basketball coach in the country. He is undoubtedly one of the most likeable. This team is battered, bruised and playing without their starting PG. And yet, through shear will and tenacity, they are back in the Final Four. How can you not love these guys?

West Virginia, lead by native son Bob Huggins, is playing in its first Final Four since 1959 when Jerry West was on campus. I would love to see their loyal and dedicated fan base get a national title.

And then there is Duke.

I think it is safe to say that hardly anyone outside of Durham, or who is not already a fan of this program, wants the Blue Devils to win. You can count me among the millions who are pulling for A.B.D. (anyone but Duke)

However, if I am real honest about it, I can't come up with one good reason why I feel this way. The fact is there are a whole lot more reasons to like Duke than to loathe them.

Start with Coach K. He has done it longer, cleaner and better than any other coach out there. He earned my respect several years ago when he turned down the Lakers' millions to stay at Duke. He is also the man who led the USA back to Olympic gold in 2008. This guy is an icon.

Then there are the former Duke players. Grant Hill, Johnny Dawkins and Shane Battier are all great guys. Outside of Christian Laettner, I can't think of one ex-Blue Devil that I dislike.

A lot of people point to the arrogance of Duke's fans. But look across this site and try to find one group of fans that are not overly prideful when their team is successful. I may actually be one of the worst offenders in this regard. I am very smug about Longhorn football and when my Spurs beat Cleveland and Boston a few days ago I was talking smack with the best of them. (Of course, the loss to the Nets put the skids on that)

So am I jealous or envious over Duke's past success? Could that be the reason I don't like the Blue Devils? I don't think so — I never disliked the 1970's Steelers, John Wooden's UCLA teams, the New York Yankees, Pete Carroll's USC Trojans or the present day Florida Gators. Granted, I can't stand the Los Angeles Lakers, but I know the reason for that — Phil Jackson.

So I am very perplexed. I am sitting here rooting against Duke, and I don't know why. So help me out fellow TSN'ers. Tell me why you don't like the Blue Devils. I need some clarity on this issue.