A Crash Course in Texas Politics for the College football fan
According to Wisconsin AD Barry Alvarez, Texas is not on the Big Ten's initial list of 15 prospective members. I don't know what that means, but it sure has not stopped the local sports media from speculating about a possible Longhorn defection.
Personally, I think Texas will stay put and start its own television network to broadcast non-Big 12 games. And with all due respect to the Big Ten, if the Horns decide to jump, I am pulling for the Pac-10. I am sure State College, Pennsylvania is a great place, but I am of the opinion that the West Coast is the best coast.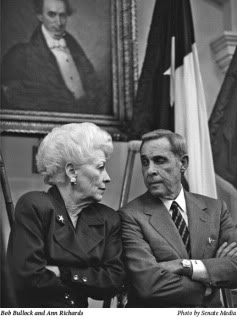 Ann Richards and Bob Bullock won't be around to protect Baylor and Texas Tech next time
Almost every scenario I have read on this subject has correctly identified the major obstacle to its occurrence — the Texas Legislature. There is precedence for that opinion. When Texas and Texas A&M began looking for a new conference home in 1994, the politicos blocked any deal that did not include Texas Tech and Baylor.
This is not surprising. At the time, those two schools had alumni in key positions of power. This is how it broke down in 1994;
Governor — Ann Richards (Baylor)
Lieutenant Governor — Bob Bullock (Texas Tech - undergraduate, Baylor — law school)
Speaker of the House — Pete Laney (Texas Tech)
Vice Chair of the Senate Finance Committee — David Sibley (Baylor)
Chairman of the House Appropriations Committee — Robert Junell (Texas Tech)
I don't want to turn this blog into a Texas civics lesson, but those the positions all wield a great deal of power, including the ability to cut a school's funding either, directly or indirectly.  In Texas, the Lieutenant Governor and Speaker have more power than the Governor in many areas. So when Bullock decided to champion the Texas Tech/Baylor cause, he was able to strong arm their inclusion.
However, the political landscape has changed a great deal since then. Here are how the same positions look in 2010;
Governor — Rick Perry (Texas A&M)
Lieutenant Governor — David Dewhurst (University of Arizona)
Speaker of the House — Joe Straus (Vanderbilt)
Chair of the Senate Finance Committee — Steve Ogden (U.S. Naval Academy, MBA — Texas A&M)
Chair of the Senate Committee on Education — Florence Shapiro (University of Texas)
Chairman of the House Appropriations Committee — Jim Pitts (SMU)
Chairman of the House Committee on Education — Scott Hochberg (Rice)
Draw your own conclusions from this data. My opinion is that all the key politicians who actually have enough pull to block a UT defection appear to be either neutral or potential Longhorn sympathizers.
The exceptions would be Gov. Rick Perry, a former Aggie yell leader, and Senator Steve Ogden, who holds a graduate degree from A&M, and whose district includes College Station. That is why I believe that any potential move has to include A&M. Perry is very loyal to the folks in College Station.
Should Perry get knocked off in the primary or general election, his replacement will either be former Longhorn cheerleader Kay Bailey Hutchison, or ex-Houston mayor Bill White, a graduate of UT law school.
This does not mean there would not be fight. In fact, I can almost guarantee there will be. But unlike 1994, this one is winnable. Tech and Baylor (and whoever else might want to rain on the Texas — Texas A&M parade) do not have the same powerful allies they had back then.
So here is a word of advice to both the Big Ten and Pac-10 — if you really want us, now would a really good time to extend a formal invitation.